LOCATIONS
501 S. Cherry St.
Suite 230
Glendale, CO 80246
Ph: 303-355-6340
6979 S. Holly Circle
Suite 185
Centennial, CO 80112
Ph: 303-355-6340
HOURS
Monday  7:00 am–5:00 pm
Tuesday 7:00 am-5:00 pm
Wednesday. 7:00 am-5:00 pm
Thursday 7:00 am-5:00 pm
Friday 7:00 am-5:00 pm
Laser dentistry is one of the most significant breakthroughs in dentistry and the office of Richard A. Murdoch, DDS, is one of the few dental offices in the Denver metro area that uses a laser.

Thanks to the Waterlase, we can often avoid the use of a drill, and Novocain! The exacting accuracy of the laser allows us to leave more healthy tooth structure in place. When we work in soft tissue, such as on gums or cheeks, the laser instantly seals wounds which helps prevent bleeding and infection.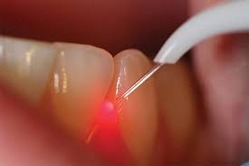 The laser can be used to:
remove decay
prepare cavities for fillings
treat gum disease
perform root canals
biopsy
treat canker sores
For more information on laser dentistry and/or to schedule a dental appointment, please call (303) 355-6340.